Upon leaving Waycross the previous weekend, Lexi and Robby said the didn't want to go, and Rob's mom was happy to let them spend the week with her. So they stayed! And it was strange to come home with only three kiddos in tow. Haley was a little sad at first, but she's getting a turn next week!
We spent the week pretty much playing at the pool. Daddy even joined us one night after dinner. I really enjoyed being able to spend a little more one one one time with Haley. I worry that since she's right in the middle, she often doesn't get as much attention. We had lots of fun staying up late watching movies and playing together.
The two older girls and I were invited to Megan's baby shower on Sunday, so Haley and I drove back to Waycross on Saturday. We went swimming and played with Uncle Chip, Uncle Caleb, Aunt Megan, and Aunt Mo. It was really nice to spend time with the family.
Uncle Chip and Uncle Caleb even took Robby for some "man time" on Saturday and again on Sunday during the baby shower. They were trying to blow up a watermelon. Unfortunately both attempts were unsuccessful (whew!), but they did manage to blow up some apples. They all want to try again next weekend when we will be down there again (And Rob can participate too).
The shower was very fun. The received so many nice things. I can't wait for little Jude to make his appearance in September!
Just as couple pictures of the shower...I wish I had taken some of Megan standing...her baby bump is *so* cute!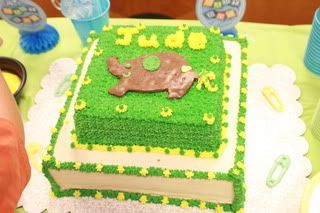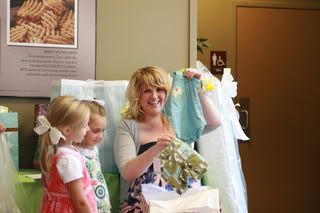 Since we'll be back down (this makes THREE weekends in a row!!) to Waycross next weekend to celebrate the 4th of July, Haley stayed at MeMa's and Lexi and Robby and I came home. It was a nice little reunion for David and Lindsey. :)